Social media is for engagement, not just promotion. We'll teach you how to wow, entertain, and engage your audience.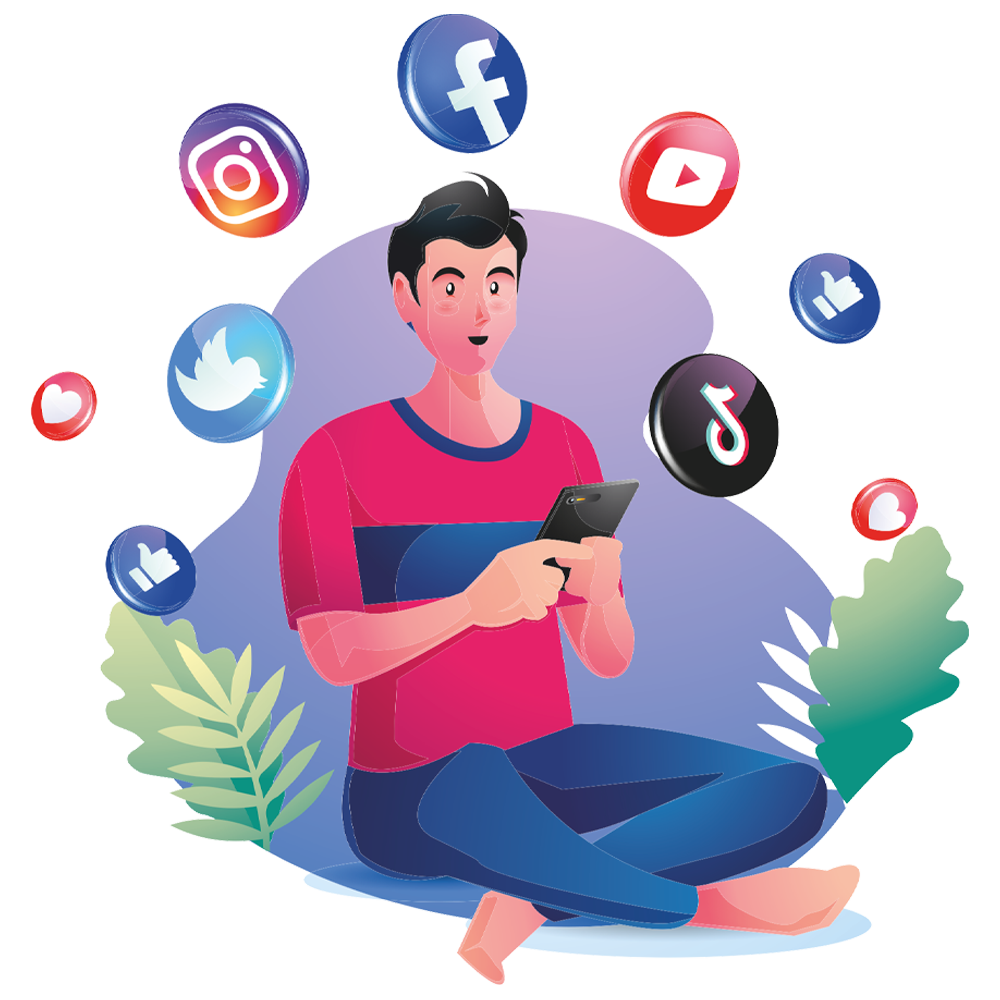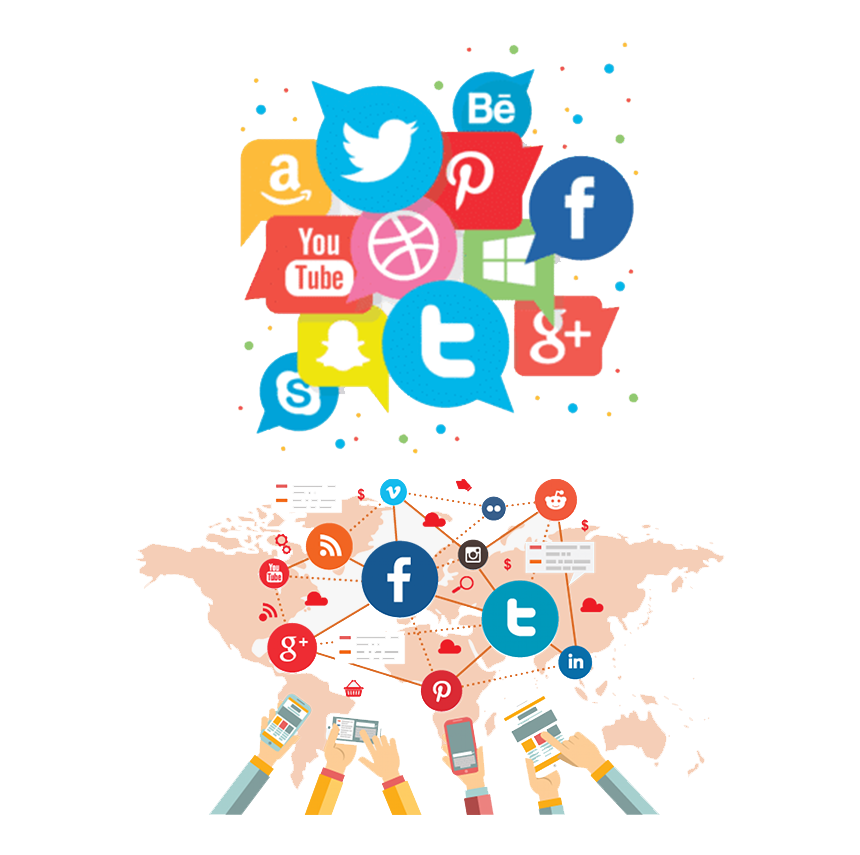 As over one third of the global population is on social media, it's a prime location for marketing. Our Social Media Management Company uses platforms like Facebook, Twitter, Instagram, and YouTube to direct traffic to your website. As your marketing agency, we'll create engaging, viral content to quickly capture the attention of your potential customers.
Frequently asked questions
What Is Social Media Marketing?
As one of the top Social Media Marketing companies, we specialize in engaging with your followers on a personal level, turning them into brand ambassadors. Our customized messages resonate with each user, making them feel connected to your brand. We have managed big brand social media pages and are trusted for our deep knowledge and skills. We know the best time for postings on each social network to get maximum reach and shares. Additionally, we keep trying new strategies for each client to achieve even better results. As the premier social media management company, we are dedicated to finding new and innovative ways to excel in social media marketing.We understand that each social media platform has its own unique features and audience, and we tailor our strategies accordingly. We use a data-driven approach to analyze the performance of each social media account and make adjustments to optimize the results.Our team of social media experts stays up-to-date with the latest trends and best practices in the industry to ensure that our clients are always one step ahead of their competitors. We believe in building strong relationships with our clients and working closely with them to understand their specific needs and goals.At Store4U Business Solutions, we provide a wide range of social media management services, including content creation, community management, social media advertising, influencer marketing, and analytics and reporting. We work with clients across various industries and have a proven track record of delivering results.If you're looking for a reliable and experienced social media management company, look no further than Store4U Business Solutions. Contact us today to learn more about our services and how we can help you take your social media marketing to the next level.
Social Media Marketing Methodology
At Store4U Business Solutions, we specialize in creating customized social media marketing strategies tailored to the unique needs of our clients. Our approach involves careful planning of content, curation of engaging creatives, and consistent posting on social media platforms. Our team works tirelessly to reach and engage with your target audience on social media in a way that sets you apart from your competitors.One of the most crucial steps in our SMO process is competitor tracking. We closely monitor your competitors' social media activities, analyzing what works and what doesn't. By understanding what engages their audience, we can select the most effective strategies and avoid any mistakes your competitors may be making.At Store4U, we don't stop at managing social media activities. We also devote a significant amount of time to analyzing the results. Our team includes certified Google Analytics professionals who carefully review reports to identify which social media activities are generating the most traffic and engagement. This helps us fine-tune our approach to social media marketing and deliver even better results for our clients.
Choosing Right Social Media Platforms
At Store4U Business Solutions, we understand the importance of choosing the right social media platforms for our clients. We take into account the type of business they have and their target audience, and then select the most appropriate platforms where they can effectively engage with their customers. With hundreds of social media platforms available, we focus on the most popular ones such as Facebook, Twitter, LinkedIn, Instagram, Pinterest, Reddit, and more.Our team also knows the importance of optimizing content for different social media platforms to maximize impact. We create and curate engaging content that is tailored for each platform and its unique audience. We also understand the connection between social media presence and search engine ranking. Increased engagement and shares on social media can lead to better search engine rankings for a website.With our strategic approach to social media marketing, we help our clients make the most of their online presence and reach their target audience effectively.
Social Media Paid Advertising Management
At Store4U Business Solutions, we understand that paid advertising on social media is an integral part of social media marketing. It helps to reach out to potential customers who are not already connected with your brand on social media. Our team is experienced in creating effective and targeted social media ad campaigns on various platforms like Facebook, Twitter, Instagram, LinkedIn, and more. We know how to optimize campaigns to get maximum returns and ensure a good return on investment for our clients.As one of the leading Social Media marketing company, we have worked on hundreds of campaigns and have been able to generate results at low bid prices. Our experts know which type of campaigns to run on each social network, how to target them to potential customers, and how to optimize them for the best results. We start by creating broad campaigns and keep refining them based on the data generated by your campaigns, ensuring that your targeting keeps getting better.We also keep launching new campaigns to target different niches of users who may be a small group size but could be big spenders on the type of products and services you offer. With advanced tools and techniques at our disposal, we work dynamically to ensure that you see the dramatic results generated by your campaigns.
Social Media Marketing Optimization
Many companies have a one-size-fits-all approach to social media management, where they post some content and consider their job done. However, managing social media requires continuous attention and optimization. As a leading social media management agency, we constantly evaluate the performance of our campaigns to identify what's working best. We analyze the content that resonates most with your audience, generates the most likes, shares, and comments, and drives engagement with your brand. Based on these insights, we optimize your social media posts to deliver the best possible results aligned with your business objectives. For instance, if you want to increase user engagement, we'll create content that encourages questions and discussions or polls to drive interactions. We will ensure that each post is tailored to generate the specific type of interaction you seek, so your social media channels deliver measurable results.
What Are The Best Times to Post on Social Networks
As a leading social media management agency, one of the common questions we get from our clients is about the best times to post on social media. However, there is no one-size-fits-all answer to this question as it depends on various factors. Firstly, the best posting time varies for each social network. For instance, we closely examine your followers' demographics, the time when most of them are active online, and the times that generate the most engagement with your posts on networks like Twitter and Facebook. We use this information to determine the ideal posting time for your social media networks. Additionally, we conduct experiments with different posting times to identify any hidden opportunities. For instance, in one case, we discovered that the most interaction our posts received was in the middle of the night. Therefore, depending on your products and services and the type of audience you are targeting on social media, the best posting time can vary significantly, and we can help you identify the optimal posting times for your business.
How Frequently Should We Post on Social Media Networks
Regular posting is a crucial component of social media marketing strategy for maintaining a continuous interaction with your followers. However, the ideal posting frequency varies for each social network. For instance, we aim to post twice a day on Facebook and Instagram, but multiple times a day on Twitter as only a limited number of users are online at any given time. On the other hand, for WhatsApp, we prefer to post only once a day or less, as excessive messages might annoy users. As a trusted social media management company, we determine the optimal posting frequency for each social network to ensure maximum engagement with your followers while avoiding overwhelming them.
So, to summarize what are the best practices in social media management
Here is a summary of our social media management best practices:We determine the posting frequency and timing for each social network based on your audience and their behavior. We post the type of content that works best for your products or services, which can include images, videos, polls, and events. We constantly analyze your social media performance to refine and improve our strategies. We keep a close eye on your competitors' social media strategies to avoid making the same mistakes and to stay ahead of the game. We have expertise in paid social media marketing and can run campaigns on all major social networks for maximum ROI. We focus on the social networks that will work best for your business and avoid wasting resources on those that won't. We prioritize interaction with your followers, as they can serve as your virtual brand ambassadors. As a top social media management company, we are dedicated to providing the best social media marketing services to meet your needs. Trust us to deliver results and help you succeed in the digital space.